Centralized automation systems, decentralized, buses, nodes, controls, actuators… This world is a mess. Please someone explain to me in a clear… What is a digital home?
Well, I will try to explain what a digital home, automation, smart or whatever you want to call.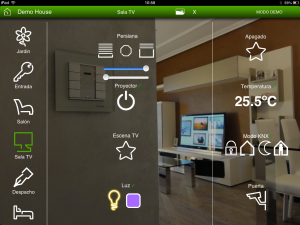 My experience of recent years lardo, in the field of home and building automation, leads me to say that the key to automation, whatever the objective, come to fruition and the total satisfaction of the final customer, Proper planning is the initial.
On many occasions we have heard: "domotics not work", "exo only by problemas" "uff passes and places as usual"
In one 90% of these cases, Messrs… fails the initial planning.
A digital home or home domotics, should be a delight for the senses, the height of comfort and feel safe and connected to our home, but do it right.
These are the basic steps to make our house becomes a true Digital Home:
Do not be afraid to automation, if you think about it, everything around unless your house is automated: Car, factories, semaphores, appliances… we are left 60 years behind obsolete systems in the home.
Pídele tu architect, if he has not already proposed, assessing the possibility of automation of the housing. More and more architects and proponents know the different systems, supported by specific manufacturers and home automation sector, check that it is not as expensive as say, and that you can afford.
When choosing the right system to install, I always recommend that you go to an open and decentralized, systems as KNX (I shall speak of it in future posts). And open standard protocol, support many manufacturers; and decentralized, so that if one day something in the system fails, the rest running smoothly.
Here is the crux of the matter, ask them to show you the system you physically be installed before doing, the company that is responsible integrators have no problem to show you what they can do, I myself have made many presentations on the same architectural / engineering and with the end customer, find out who will be behind the automation, think and what ideas you can make to improve your user experience.
Requires a report explaining the project, further know that the installation is.
This is another final for achieving good work, system integrator must coordinate the unions involved: electricians, plumbers, security, placing the pool… is very important to have a link between them, This point is highly dependent on the installation is successful.
If we follow these steps, and make that initial planning is correct, consistent with our claims, by experts advise leaving and trusting our architect / technical office au, I assure you that you will enjoy a true digital home.
In the second installment of this article, I'll find out which are the building blocks of all digital home must possess.